Scalar
As college students in the 21
st
century, we are constantly
surrounded by screens and images. Whether it is regarding our social lives,
personal pursuits, or academic endeavors, we can't seem to escape the ubiquity
of digital content. This fact is especially pertinent in academia
, where most student now begin and finish their work on the
computer, instead of beginning and finishing on paper. This is especially
true in fields like film and media studies and the humanities, where much
of the content that a student would be handling are now created and indexed
online in various digital format.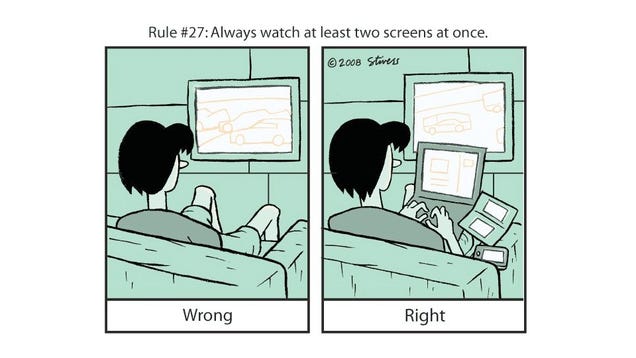 Engaging with these new digital
forms has created a communicative environment as well as a new subject of
study. The usage of digital media in Higher education has been largely focused
on improving the dissemination of information within and outside of the
institution. One successful implementation of this concept is the project "Scalar"
at USC. Funded by the Alliance for Networking Visual Culture, the project seeks
to create a pipeline to support emerging forms of scholarly publication through
digital creation. This new technological platform allows students to interact
and manipulate digital content in new and unique ways, but more importantly it
is building rich collaborations between various archives, groups, and scholars
who can then work together within this new platform and increase access and
dissemination of these otherwise very exclusive academic publications.
Scalar is a free,
open source
authoring and publishing platform which was
designed to introduce a streamline way of writing long-term, digital-born
scholarship online. It enables users to utilize media from multiple sources and
compliment that with their own writing in an interactive way, the user
interface is simple and does not require much technical expertise. It includes
a built-in reading interface as well as an API, which allows Scalar content to
be used to drive custom application. Scalar also has tools to structure essay
and long-length works in ways that takes advantage of the unique capabilities
of digital writing, such as nested, embed, and non-linear texts. Most
importantly, the project challenges the traditional notion of authorship and
format of peer-review by supporting collaborative authoring and reader
commentary. This is precisely the intention of the creators, to not only create
a streamlined platform for producing digital-born content that will improve the
dissemination of information but also to push back against the conventional understanding
of authorship in academia with its collaborative authorship function.
Digital publication opens up
countless new possibilities to the structures of your academic work, it is
literally a space where anything can do anything to anything. There are two
tools within Scalar that allows you to do this, one of them is path, which are
linear sequences of content that lines up like chapters in a book, or steps in
an instructional manual. The other is tags, which are non-linear groupings of
content like items in the index of a book. Scalar has the flexibility to apply
both grouping and sequencing, path can contain other paths and tags can refer
to other tags, thus allowing the author to construct both hierarchical and
rhizomatic structures of content. Any piece of information within Scalar can be
a reference to another piece of information, such as text, video, audio, and
imagery. And because Scalar is open-source, you can create your custom
visualizations and built new interfaces based on your own materials using the
built-in API. What makes Scalar so sustainable is the support it gets in
importing media from popular media sites such as YouTube and Vimeo. Other
archive partners such as Internet Archives, Hemispheric Institute Digital Video
Library, and the USC Shoah Foundation Institute for Visual History Archive allows
users to import media from directly within Scalar. Their partnership with
Critical Commons gives user the right to directly import video, audio, and
images from without fear of infringing on copyright citations.
But above all, the most creative
design of Scalar is its Reader Feedback function which allows threaded comments
on every pages created. Each comment then becomes a page in its own right
within the publication, saving the user responses and enabling that content to
be used in the visualization and indexing of the final publication. This
feature helps to generate a recording of the dialogue and keeps in its memory
all traces of commentary and interaction, something that can be very valuable
in the editing and revising process of an academic publication. The ability to
have multiple authors in Scalar supplements the reader feedback function in
that it allows another person or an entire class the ability of collaborative
authorship. Scalar then saves each author's edits to every page in its history,
and the group can go back and see who edited which exact section of the work.
ANVC's project Scalar is an i
mportant source of inspiration in the field of digital publication and online
authorship, it raises interesting and proactive questions about its possible
implication to academic publications within higher education. Scalar is a free
pioneering platform that offers scholars everywhere the tools to author
media-rich and digitally-born online publications. These publications utilizes
streaming videos, audio, interactive visualizations, tags, etc., and are
already being used for dissertations and being published by university presses.
Scalar
, can help today's digital
minded students explore just how exactly online tools can help shape the
present and pave the path for the future of publishing in academia.
Scalar is good example of an
existing technology for the creation of interactive digital publication that is
accessible to most students in higher education today. It serves as the
grounds on which content for E-poster sessions can be built and revised. With
that said, Scalar is a great transition into examining a few examples of E-poster
sessions that exist in academia today, such as the Clifford Symposium held
yearly at Middlebury College. The next step in the research process would be to
generate a few pertinent examples of institutions who have or are using
E-poster sessions and examine and identify the benefits they would bring as
well as the barriers to their implementation.